Landscaper in Eatontown NJ
Servicing all of Eastern Monmouth County
Absolute Quality Lawn Care is unlike any other commercial lawn management company that you've ever seen before. Established in Oceanport in 1994, Absolute Quality Lawn Care is a family-owned company that has worked hard to establish its reputation for providing excellent, affordable service, as well as its reputation for treating all employees like family.
We Have The Right Tools For The Job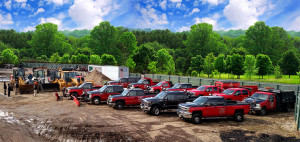 As a lawn care company, we know that some jobs will require more tools than others. Using state of the art well-maintained light and heavy machinery, our 18-person company makes sure that no job is too big, too small, too complex or too simple to handle. If you've been turned down by other commercial landscaping companies before due to the necessity of specialized tools, we are the ones to call.
We Also Have Lots Of Specializations Under One Roof
Each of our employees is highly experienced in the field of landscaping. Many of them have their own specialties that make them an asset to both our company and our clients. In fact, Absolute Quality Lawncare is actually an umbrella company of four separate, highly specialized businesses:
Absolute Quality Lawn Care & Turf Maintenance Division
Absolute Quality Pavers & Brick Work Division
Absolute Quality Landscape & Design Division
Absolute Quality Snow Plowing
All the separate businesses work together to coordinate unique, personally tailored solutions for each customer. This in turn allows you to have Absolute Quality Lawn as your ideal one-stop shop for all your commercial landscaping needs.
We Believe In Honesty, Integrity, And Hard Work
Too often, we have seen companies that have done everything to push for more expensive lawn care solutions at the detriment of clients. We've also heard of a plethora of lawn care companies that don't give their foreign workers a chance with an H2B Visa Program.
We are not that kind of company.
We are proud to have implemented an H2B Visa Program for our foreign workers. We are also proud to say that we don't view our clients as a quick sale. Our goal, above all, is to establish a great relationship with our clients, keep our prices low, and keep them happy. The only true way to accomplish that goal is to have a policy that is based on honesty, integrity, and hard work.
When you choose Absolute Quality Lawn Care, you will always get absolute quality – from start to finish!

PO BOX 667 Eatontown NJ 07724